Vegan Applesauce Recipe – Vegan in the Freezer
Applesauce made easy and delicious with fresh apples for a wonderful vegan applesauce recipe. Perfect as a condiment, side dish or treat. It's a big batch so you can save some for the future too.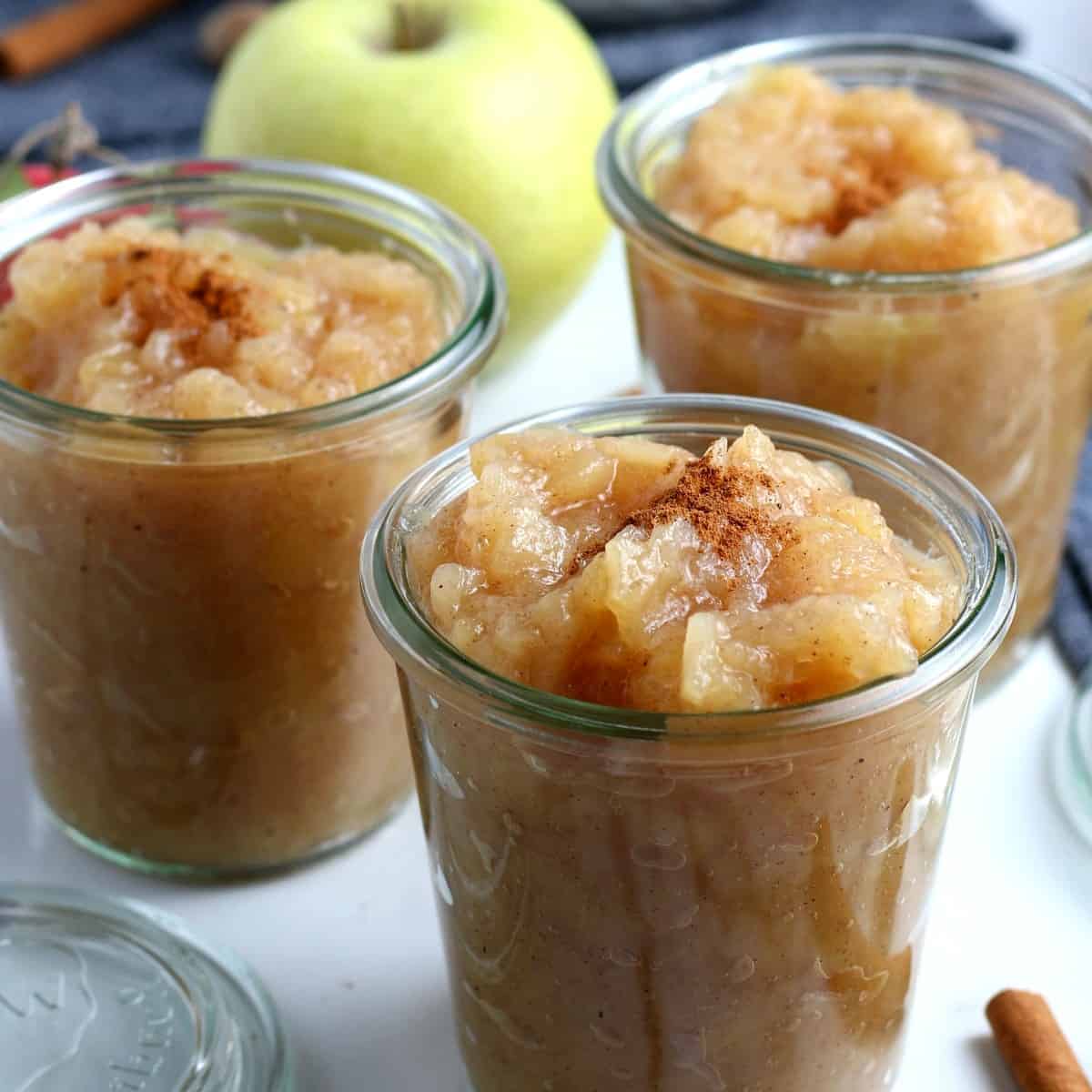 How can something so easy be so tasty to every single age group. From infants to seniors applesauce is a real treat.
Another good thing is that is always vegan. In fact, besides being a simple DIY this recipe is also gluten free, dairy free, and paleo. A true vegan applesauce recipe that is a quadruple threat.
One more thing is that it is an inexpensive side dish, spread and snack.
Jump to: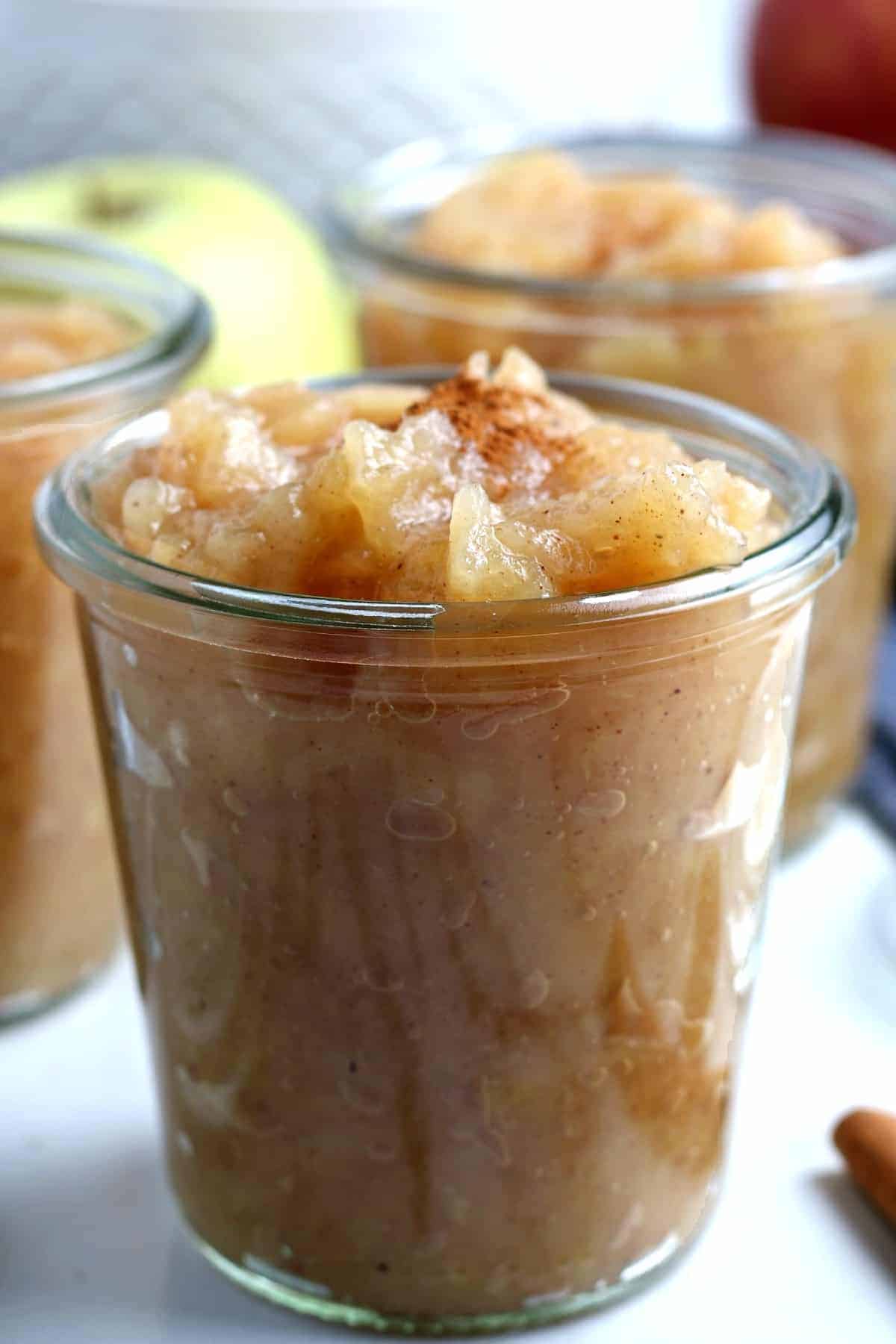 Pro tips
Any of your favorite apple varieties will make a delcious vegan applesauce.
I almost always use coconut sugar but I went the traditional way for this recipe. You can exchange coconut sugar with no problems at all.
If your apples are sweet you may not need any sweetener. Most people like it a little sweeter though.
Lemon juice is used to keep the apples from turning brownish and to balance out the sweetness. I have not used lemon juice every time though and it still turns out great.
You can use apples that have a few brown spots and aren't in their optimal fresh eating condition. Just cut out the brown spots and make this great side dish.
How to use applesauce
As I mentioned above it's very versatile.
It is often used as an egg substitute in baked goods such as in these Apple Granola Muffins.
If you'd like to substitute applesauce for an egg in one of your quick bread recipes then a regular egg would be just shy of ¼ cup applesauce or just shy of 4 tablespoons.
It is traditional to have applesauce on latkes or potato pancakes.
Straight out of the jar is an excellent idea.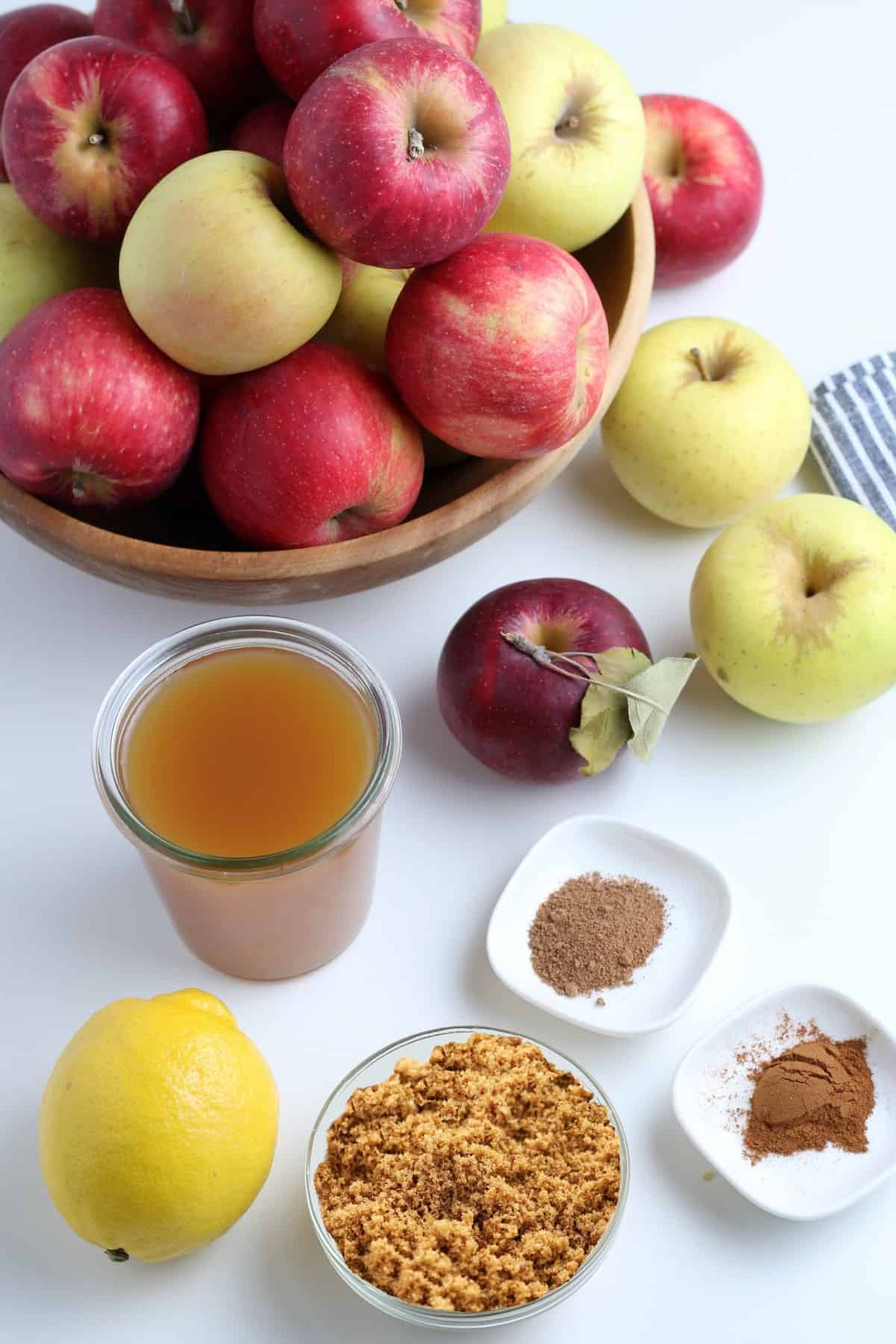 Can you can applesauce
Yes and it is so easy. You don't even need a pressure cooker. You do need a pot with a cover to have the water come up to 2-3″ above the jar lids.
They do have canning pots with an insert for lowering the jars but you can use a large stockpot also. For safety so that you don't burn your hand or drop your jar when lowering this jar lifter works wonders.
I use to live in Apple Hill, California and believe me I have canned countless half pint and pint canning jars using the hot water bath method.
Wash the canning jars and lids in hot soapy water and rinse well.
Make the applesauce as usual.
Start the water so that it can begin to come to a boiling point.
Fill a canning jar up to about an inch from the rim.
Screw on the lids with rings.
Place all of the jars in the boiling water. make sure the boiling water is covering the jars by 2-3 inches.
Process in the boiling water. 15 minutes if you live under 1,000 ft. or 20 minutes if you live between 1,000 ft. and 6,000 ft. If you're above that then process for 25 minutes.
Remove with the jar lifter and set aside on a kitchen towel to dry and cool.
The most rewarding part is when you hear the lids 'pop'. That means they have just sealed themselves for storage. Let them cool completely and store in a dark, cool, dry place (the pantry) for up to a year.
Ingredients
Apples, apples, apples in any variety that you like. If you use Granny Smith you want to make sure you add sugar.
Lemon is for keeping the apples from turning brown.
Apple juice adds extra liquid and taste.
Organic brown sugar adds sweetness.
Ground cinnamon mixes really well with nutmeg and sugar and adds even more flavor.
Ground Nutmeg helps round out the flavors.
How to make homemade applesauce
Core and cut apples into thin slices and add to a large pot.
Squeeze lemon juice over apples and toss to coat.
Add apple juice or apple cider, brown sugar, and spices. Stir to combine.
Cook over medium heat, stirring occasionally for 20 to 30 minutes or until apples are tender. Remove from the heat.
Process to desired consistency with a potato masher, food processor, or blender. If you use a blender don't make it too creamy and smooth.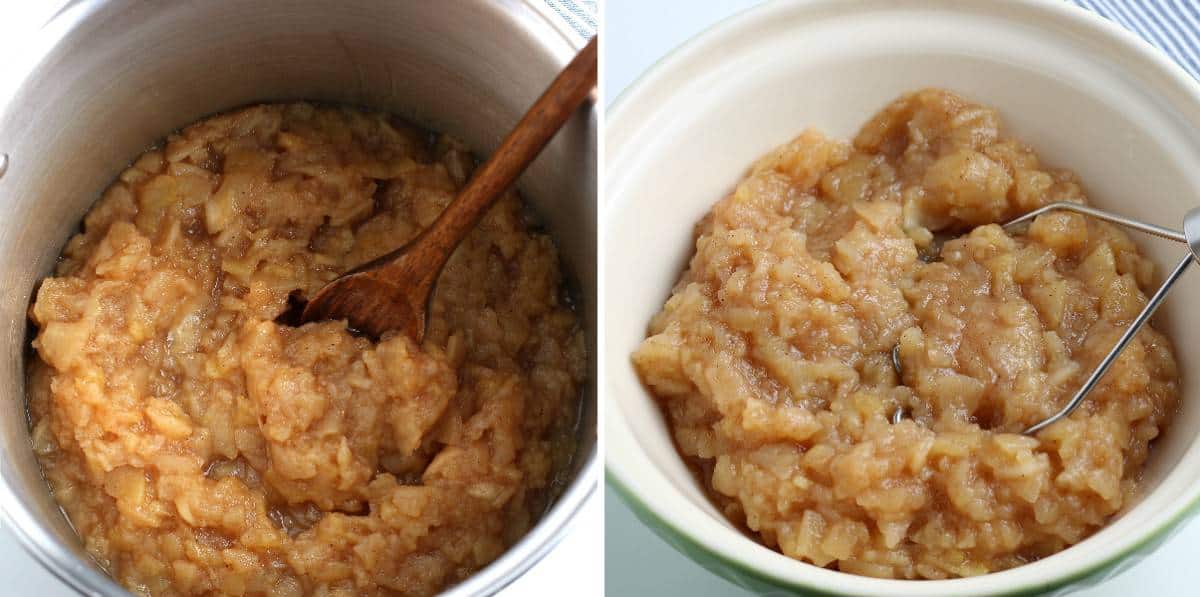 Serve warm, at room temperature. or chilled.
Store covered or in a glass jar with a lid in the refrigerator.
FAQ's
How long will applesauce keep?
Newly made or leftovers will keep for 5 to 7 days. This makes it a great option to make ahead too.
Can you freeze applesauce?
Yes, you can! Just wait until it's cool first. Put it in a freezer-safe container and keep it in the freezer for up to 3 months. To thaw, just put it in the refrigerator for 1 or 2 days.
How do you make chunky applesauce?
Use a potato masher and mash as much as you can. It will be chunky.
How do you make smooth applesauce for a baby?
Use a sweet apple to start with so that you don't have to add any sugar and leave out the lemon juice. When all is cooked use an emersion blender or a blender and blend until creamy smooth.
Is applesauce good for you?
It will satisfy your sweet tooth so it's a better option than most desserts. The less sugar you use the better it is for you. There are about 100 calories per cup of unsweetened applesauce.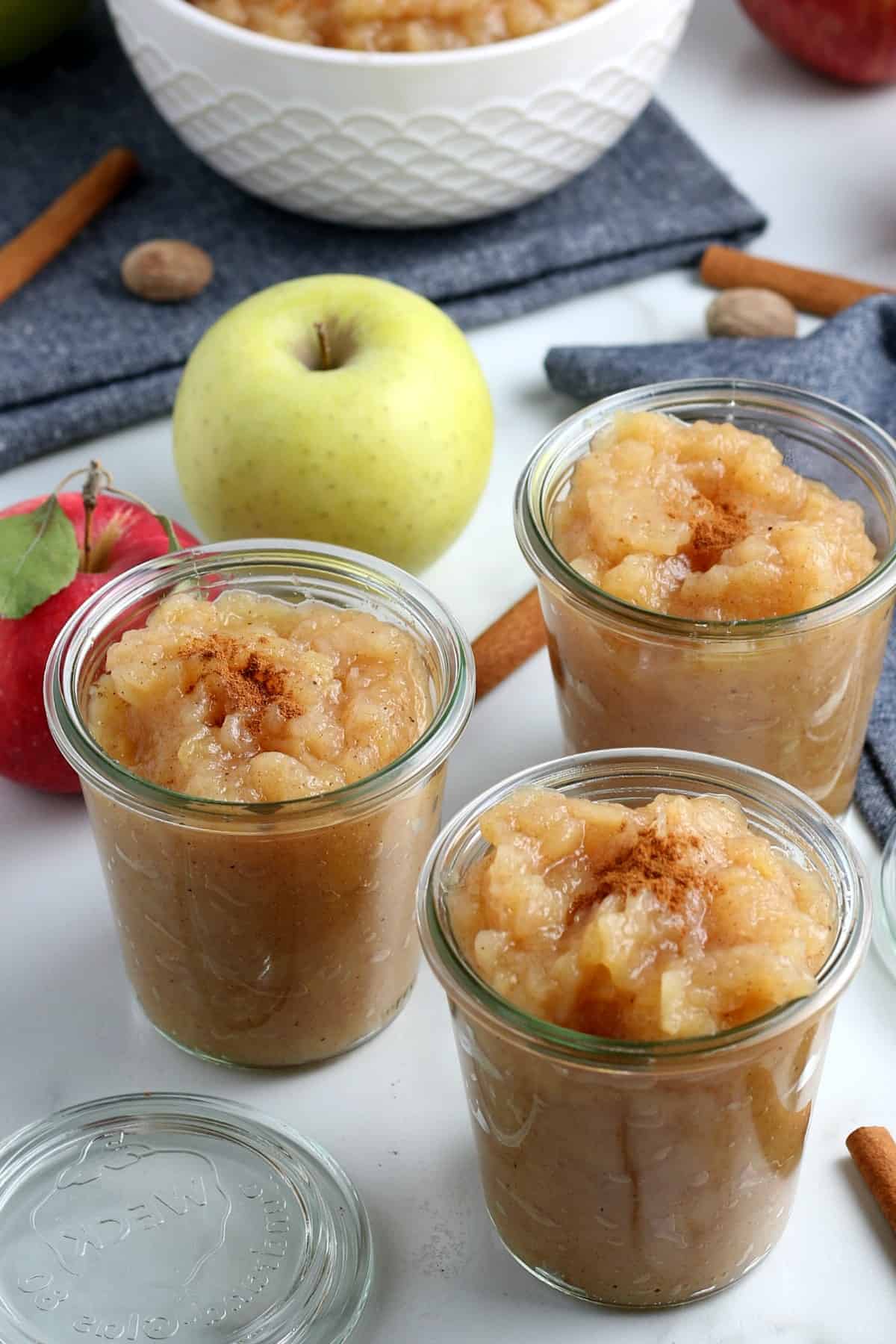 Recipes using applesauce
As an Amazon Associate, I earn from qualifying purchases. This post contains affiliate links. Read my disclosure policy here.
DID YOU TRY THIS RECIPE? I want to see! Follow @vegan_in_the_freezer on Instagram, snap a photo, and tag it #veganinthefreezer. I love to know what you are making!
Your opinion means a lot to me and if you'd like to leave a comment and possibly a star rating I'd love to hear your thoughts.
📋 Recipe
Vegan Applesauce
Applesauce made easy and delicious with fresh apples for a wonderful side dish recipe plus more!
Ingredients  
16

cups

Apples

– 6 pounds apples is about 16 cups peeled, cored, and cut into slices

2

tablespoons

Lemon juice

1

cup

Apple cider or apple juice

½

cup

Organic brown sugar

1

teaspoon

Ground cinnamon

1

teaspoon

Ground Nutmeg
Instructions 
Clean and slice apples.=. Add to a large pot.

Squeeze the juice of a lemon over apples and toss to coat.

Add apple cider or apple juice, brown sugar and spices. Stir to combine.

Cook over medium heat, stirring occasionally for 20 minutes or until apples are tender. It might be up to 30 minutes. Remove from heat.

Process to desired consistency with a potato masher, food processor or blender.

Serve warm, at room temperature or chilled.
Notes
Store in an airtight container or in a glass jar with a lid.
Nutrition
Serving: 1cupCalories: 199kcalCarbohydrates: 52gProtein: 1gFat: 1gSaturated Fat: 1gSodium: 8mgPotassium: 316mgFiber: 6gSugar: 42gVitamin A: 135IUVitamin C: 13mgCalcium: 31mgIron: 1mg